Registration now open for the 2022 event. More info below
For 2022, the Rwandan Epic drops its training wheels, and goes for a full out, 4 stage race in teams of 2. There will be male, female and mixed categories and special classification for East African teams. 
We aim to provide opportunities to as many of the East African talent as we can, and each entry to the race will sponsor 15% of an East African spot. Want to sponsor more, you can select some extra donation at checkout!*
* In the case donations surpass the number of EA talent we manage to get to participate in Rwandan Epic, 100% of funds will go to the development of the MTB sport in Rwanda, with full transparency. 
Dates

: March  10 to 13 2022

Stages:

4 (1 prologue style, 2 XCM style, 1 XCO style)

Slots

: 60 teams max 

Cost:

from 1200 EUR including 4 nights accommodation in hotels (see below)

Prize Purse: 7.000 USD
Categories: Female Teams, Male Teams, Mixed Teams
Itinerary
Wednesday March 9:

Mandatory registration and rider briefing

Thursday March 10:

Kigali City Prologue & transfer (coach) to Musanze

Friday March 11:

Lake Ruhondo stage (nigth at Musanze)

Saturday March 12:

Volcanoes stage (night at Musanze)

Sunday March 13:

Gishwati-Kivu stage & beach party at Gisenyi
Special deals for supporters, tourism packages and day tickets for Sunday will be announced in December 2021!
Entry fee (per person)

What's included?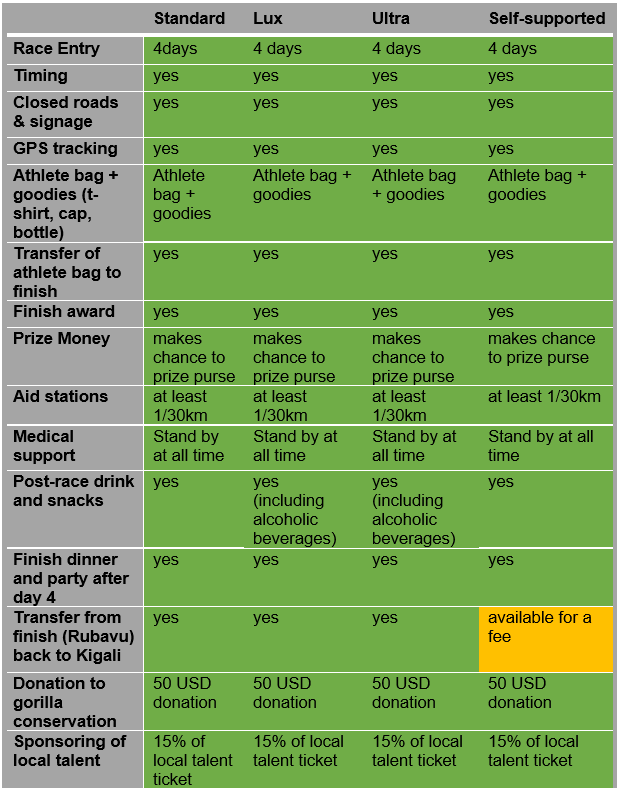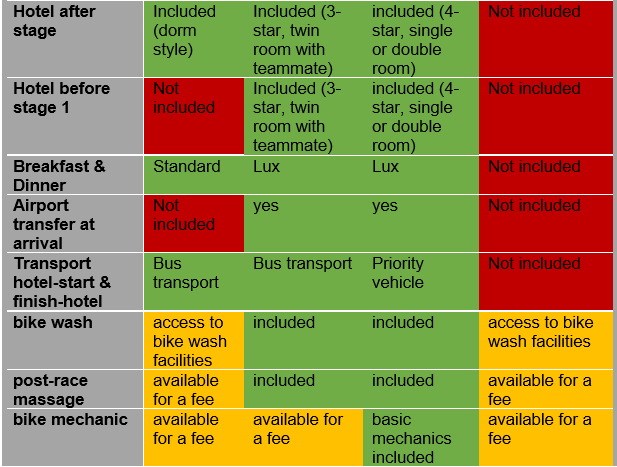 Events in a world of COVID-19
We are very confident about the event happening in November of this year, but are aware that certain COVID protocols will still need to be in place. For that worst case scenario, we have put in place special, extra generous refund conditions
Full Terms and Bookings, see  https://www.rar-events.com/terms-and-conditions/
FAQs regarding cancellations and refunds below:
T&C FAQ
What if I cancel for general reasons
In case of cancellation longer than 3 months before the event starts, either 90% refund will be given or transfer of 100% of the amount paid to an alternative event. In case of cancellation within 3 months of the event but longer than 1 month before the event you will be charged 50% of the registration fee as cancellation fee. In case of cancellation within 1 month before the event 100% of the registration fee will be charged.
What if I cancel for COVID specific reasons?
If a participant is forced to cancel their participation due to COVID specific force majeure they will receive a 90% refund of the event entry fee (transaction fee excluded) If a participant is forced to cancel their participation do to COVID related events not included in COVID specific force majeure, then they will receive a 50% refund (transaction fee excluded)
What do you mean with 'COVID specific'
COVID Specific force majeure' means an event of COVID that is beyond the control of the participant but directly prevents their participation in the Event. This includes: * Contracting COVID – Proof of test is required by the event organisers *Closure of national airports due to Governmental COVID related restrictions – National Govt Website confirmation is needed as proof. *Rwandan Govt enforcing mandatory quarantine period for international arrivals. COVID specific force majeure does not include: *Family/friend/colleague contracting COVID *Having to take a COVID test *Change of flights leading to inability to participate *Work related requirements/restrictions leading to inability to participate *Refusal to comply with Govt regulations surrounding vaccines, if they become available.
What if the event is cancelled for COVID reasons?
If the Event is cancelled or delayed due to COVID then all participants will receive a full refund (transaction fees excluded)